Body in context - 21&Counting

Slovakian dancer and performer Tomáš Danielis, who works mostly abroad, has recently returned home to Slovakia, where he brought here, less common, conceptual "dance" formats combining dance and thought. His lecture performance "21 & Counting", one of his latest projects, announces as a belated celebration of the twentieth anniversary of his career. In reality, however, it is a strongly engaged performative essay on forming manipulative pictures and perceptions of reality.

It is a well-known thing that language constitutes our reality, how we perceive ourselves and things around us. From a psychological point of view there is a difference to say that the glass is half empty or half full, although in both cases we describe the same amount of liquid. Likewise, our reality, or better the cultural or socio-political context, fundamentally determines the meaning of what is said. For example, the use of the word "Indian" has a diametrically different impact in the Czech Republic and the US. Over time, language has become (or has it always been?) one of the most important tools of manipulation and policy. It may become necessary to realize how appropriately chosen words can influence a person's decisions. Especially in a society based on the basis of consumer logic, which also set its own values of so-called normality in the order of manipulation and persuasion. Danielis in "21&Counting" suggests a simple parallel between word and dance, between language and choreography. Language and dance are here understood as equal means of expression, and what is "spoken" by word and movement, can then be manipulated by the context for different reading. Let us remember, for example, important figures of German expressionistic dance who performed at the Berlin Summer Olympics in 1936 and became part of Nazi propaganda. Apolitical dance has become a clear policy here.

In terms of lecture performance, Danielis performs by himself and guide the viewer through his past and reflections. In somewhat ironic "rhetoric" of stand-up, he dances fragments from his own and foreign choreographies in which he has ever performed. He then comments and puts them in the context of his personal history. However, although it speaks of himself, the primary message is the central statement of the indisputable influence of context on our perception.

On the stage there is only a side table with all the controls, a mix board and a laptop. Danielis manages it himself, he lights up and goes out of the scene, plays music, comments to the microphone, openly comments on every part of the performance. It's not surprising what comes. The tension and hint of mystery remains only in concentrated, but at the same time relaxed dance sequences, in which a great deal of Danielis' insight and irony blends with serious and faithful devotion to each individual movement.
Danielis supports the understanding of dance and words as parallels by its very nature ephemeral, materializing and graphically capturing it in space. Just as a word is captured in writing. Each dance fragment leaves a mark on the scene, as Danielis draws his body chalk on black dance floor every time he stands in the
final pose. On the floor there will be a map of his dance career, his past choreographies, as well as his memories. The context of the graphic representation of dances is not only painted rectangles in which Danielis closes the footprints on the floor, but also his comments, how he grasps choreography at the language level.

In addition, both media, dance and language are connected. Just before the end, Danielis specifically describes the movement by movement to the viewer about the feelings that accompany him when dancing one of the sequences. It always depends on the context in which choreography he as a dancer perceives it at a given moment. The upright hand is for him one rising sun in one moment and in another hand for astronomical clock showing twelve o'clock. The point of Danielis' reflection on the influence of context on perception will be spoken of in his last dance on the plaintive Allemande of Bach's Second English Suite. Let us think about what we read behind words, movements and images not only in art but also in everyday life, and what mechanisms and contexts have influenced our interpretation. What do we see in the body dancing to the baroque composition? Poetry, irony, sovereign egoism, engagement, individuality, dancer after twenty years of career, simply moving middle-aged man?

Topics: contemporary dance, performance, conceptual art
Date of dispatch: 13.11.2019

Bibliographic record: Liška, Barbora. Body in context. MLOKi - young about culture differently
[online]. Bratislava: MLOKi Cultural Society, 2019. [cit. 17.11.2019]. ISSN 1339-8113. Available from http://mloki.sk/node/1035.
CONTEXT AS CAUSE OF EVERYTHING!
Michaela Pastekova - Kapital 10.5.2019

The most provocative for the audience was Tomáš Danielis' "one man show" called "21 & counting" dance. The irony with which he executes this show is multiplied by the fact that he uses his own dance career of twenty plus years as a background material for the metacriticism of performative art. The performance thus plays out two lines, which, however, are not isolated trajectories. The first has the character of a personal journey, on which Danielis reconstructs and to some extent evaluates his own dance experience. He mentions the schools he went through, shows excerpts from choreography and former performances. The reflection of the past takes place in a verbal form (i.e. a direct speech to the audience) as well as in a non-verbal form - through movement fragments and figures. He sometimes lets them sound independently, other times he comments on them during the performance.
But what was the filter of his memory and what does he actually want to convey to us? Is the personnel context really important? Here we come to the second, already outlined above analysis of the language of performative art itself. Danielis basically shows what he doesn't like about it. With reference to the stand-ups of the American comedian George Carlin on political correctness and euphemisms, he jokes about the excessive sophistication or conceptuality of performative language (but with full seriousness). In his speeches, Carlin often emphasizes that this context deprives words of their neutrality and innocence and gives them good or bad meaning. Is this also the case with dance? Can a performative body ever be neutral? Theories say that the body always functions in a certain "habitus" of relationships and structures. His contextualization into the art world does not free him from innocence, but rather (artificially) adds other layers of meaning to him.
One of the most important props in 21 & counting is the chalk that Danielis uses to draw something all the time - most often himself. At first, only some parts of the bodies (hand, foot…) surround the white line, gradually it gets to the isolation of whole figures. Is it just an ironic game with an audience that will naturally ask, what is the reason for the land of multiplying lines? Does the drawing stop the moments he wants to remember? Does he want to free the poses from the context? At the end, dance carpet resembles a huge crime scene, but it will not be entirely clear who the victim is and who the perpetrator. About halfway through the show, Danielis tells the story of how he had to get drunk to dance naked. For greater authenticity, he drinks alcohol directly on the stage and sends glasses, a box of juice and a bottle of vodka. In order for us to be too "tuned in", we need to silence ourselves and this naturally disrupted the concentration by noise. However, Danielis does not wait and continues to perform - performative art does not need to be taken deadly seriously, it is not necessary to capture every "movement". Even moving it around the scene ignores blind spectator points, without shyness plays behind the pillar on stage or comes out too for the edge. After all, as he himself says, he is only "a man who moves in space." By ridiculing his stubborn dependence on the concept, Danielis questions the notion that the audience is a defenseless prey to contemporary dance. The roles are very easy to reverse. Just by doubting and questioning suddenly it may be that the audience trap the performance art.
GAME, MLOKi 2018, Excerpt
Power games for power

Slovak dancer and choreographer Tomáš Danielis with his newly created international group FEYNMen presented the latest work Game at the Slovak premiere at the festival. Danielis based his work on game theories and focused mainly on the aspect of the functioning of power, on various strategies and mechanics. These go beyond the scope of this fictional world of games and also appear in real socio-political functioning.
...
The viewpoint surrounds the scene from all four sides. Already in the first performance, the performers welcome the audience, move along the walls of the square, overtake and prepare their "arena" for the beginning of the game. Even during the performance, the performers communicate with the audience several times through direct eye contact ...

... Choreographies encourage, in particular, the associative whirlwind of ideas about the unequal position of the individual in the group and the functioning of the group as a whole, with an emphasis on the need to be in a leading position...

... The creative team works significantly with the position of the body in space as a meaning-creating element. Not only in relation to the bodies of other performers, but also in relation to space as such ...
...The FEYNMen dance group brings a special conceptual approach by which they communicate the chosen topic with an overlap into the precise reflection of the tendencies of the individual's behavior in society.
section: story
Themes: contemporary dance, Bratislava in motion, Bubla company, O.Z. Reservation, Renata Ptačin, FEYNMen, Tomáš Danielis
Publishing date: 12/23/2018
Bibliographic record: Pavlačková, Diana. Poďme sa hrať, ale radšej bez detí!. MLOKi - mladí o kultúre inak [online]. Bratislava: Kultúrny spolok MLOKi, 2018. [cit. 17.5.2020]. ISSN 1339-8113. Dostupné z https://www.mloki.sk/node/924.
DANCE DEMOCRATICALLY, IRONICALLY AND WITH HUMOR
Lucia Galdikova, Kod 2019

The solo performance 21 & COUNTING was created as delayed celebration of the 20th anniversary of the Slovak dancer Tomáš Danielis on stage. However, the viewer does not have to be direct with his work experience, it is not necessary to look for features in his creations, from past choreographies. It can only (as Danielis) focus on reflections on the relationship between language and body and their abilities to say what we see, feel and experience.

Directly on stage, Danielis directs himself: he plays music from a laptop, controls the lighting, interrupts. Through a suggestive, factual and intellectually charged speech, he presents his dance autobiography and comments on his own movements. His voice in the microphone sounds formal, uninvolved to Brechtian (recalls for example, reporting safety instructions in an aircraft). The distance that Danielis creates by speech does not allow us to immerse ourselves emotionally in his movements, despite showing them gracefully, with ease and exaltation. He jumps into the distance, from the seat he heads to the stand, turns on his head, rolls over the ground and swings out of the crank until he lies on his back. As if flying in space.

In addition, he draws white chalk on the floor all the time individual parts of your body in different dance positions. These are the memories of the places where his body was, some kind of attempt to capture fleeting moments on stage. When creating the outlines of a rectangular space, figuratively imagine so he frames his professional life. They remain in the middle the chalk remains of his body, as if the experiences still remained preserved somewhere - at least temporarily.
A passage inspired by a recording by an American comedian George Carlin, who with humor and a good dose of satire and irony (which is inherent in Danielis) is devoted to linguistic culture in the United States, brings another thematic level. According to Carlin, direct denomination have disappeared and as a reflection of inability to face reality. Stating that politically incorrect words and phrases are becoming such only in the context in which they are used. In the performance, words and names come into context with the ideas contained within and the reality they describe. This point is brought by Danielis at the end of the shows when plays with associations trying to precisely define the dance positions. He rests on the ground with the edges of his feet and reaches for one hand, which, according to him, can also represent the sunrise, hands on the Prague Astronomical Clock or the mosquito that stretches legs. However, Danielis admits that he really is only moving, dancing and talking on the given space. He is only medium and observer as the audience while he moves and dances. He also points to fact that the beauty or "meaning" is in eye of beholder and conveying what they feel is complicated (if at all possible). There is a polemic between the very words that should have the ability to do things clear and label, and the movements that each person can interpret according to one's own experience and imagination. Perception dance as well as reality, are still individual.
MAYBE, BUT OF COURSE, Excerpt - KIOSK 2019
Jakub Molnar, MLOKi, 29.07.2019
Mloki - work in progress recenzia: http://mloki.sk/bez-okolkov/kiosk-2019- de%C5%88-posledn%C3%BD-pl%C3%A1novan%C3%A1-opera-%C2%A0nenaplnen%C3%BD-folkl%C3%B3r#/0
It is the last day and many, after the official party - the end of this year's edition (historically the first in the New Synagogue and not traditionally at the Station!), are oafishly moving in the gentle breeze of Sunday morning. Erika Fischer-Lichte would call it a liminal experience. In Tomáš Danielis' performative stand-up Maybe, but of course, we were witnesing an invisible large-scale "decomposed contemporary opera" with a pinch of baroque music.
As in the lecture, the performer introduces us to his visions of a planned project, with the ambition of being the most original and exciting act we have ever seen. With a microphone and a completely empty stage, he describes the individual sequences he has been thinking about and presents a few examples. Heroic ballet poses, a concentrated stand in the middle of the stage as a place between "past and present", a concentrated look from the window ... He presents everything with great enthusiasm, but the work is deliberately a cynical satire of the artistic process as such. As a misanthrope of contemporary dance, Danielis is not ashamed to point on his colleagues, the professional community, but also the audience's conventional preferences.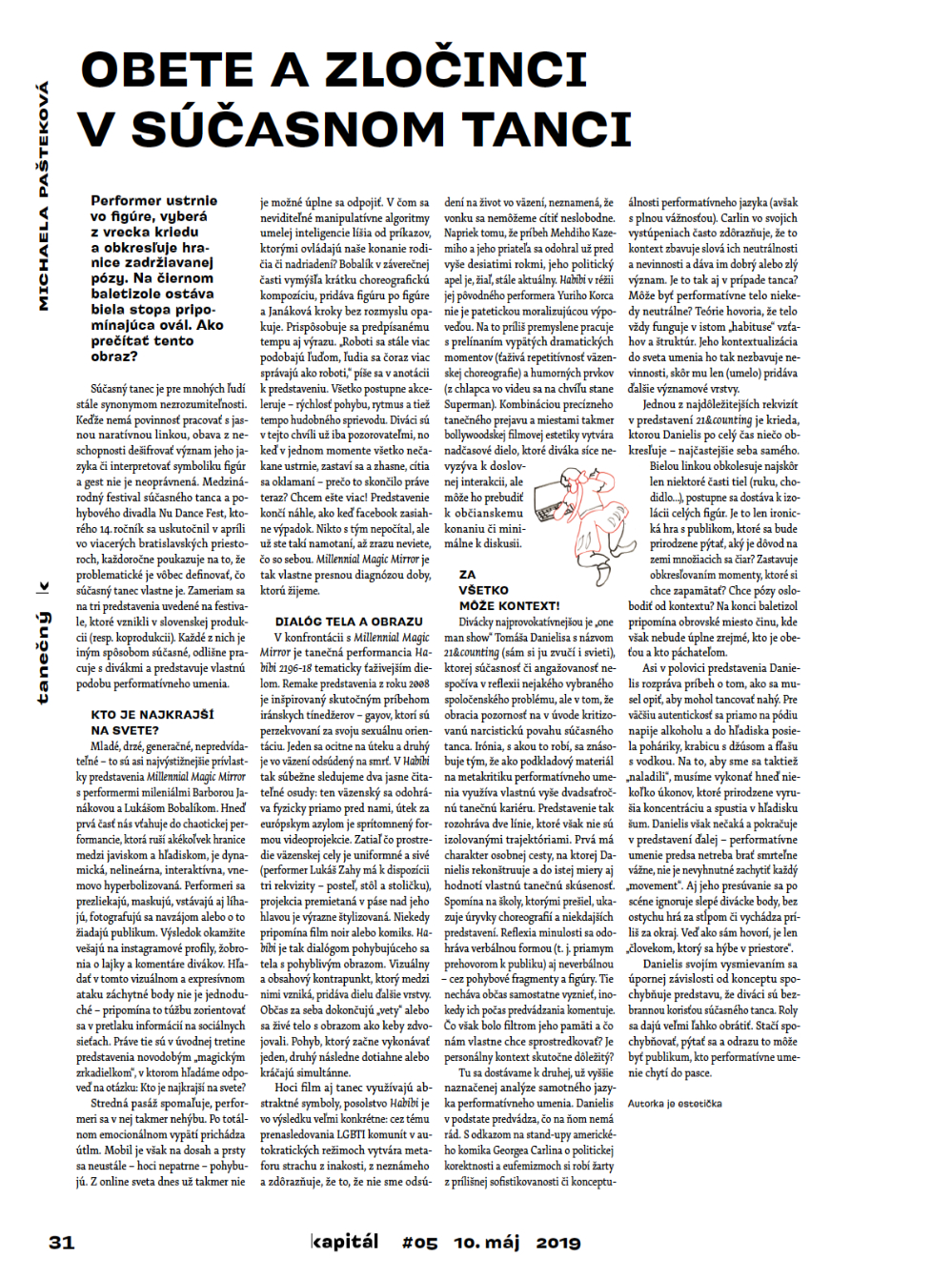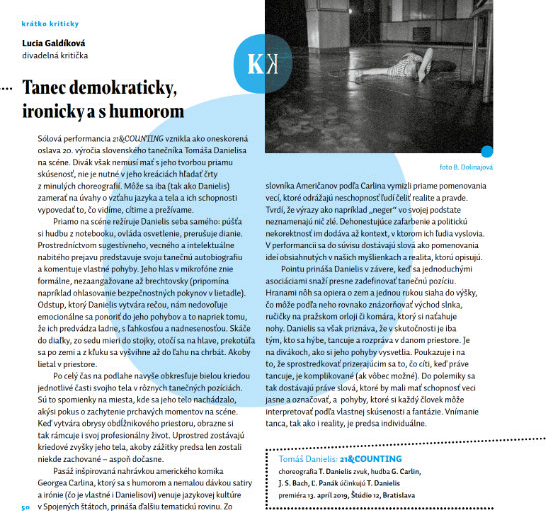 Austrian Cultural Forum:
https://rakuskekulturneforum.sk/podujatie/bratislava-v-pohybe/

Busan International Dance Festival
http://eng.bidf.kr/bbs/board.php?bo_table=team&wr_id=53

Plast:
https://plast.dance/podujatie.php?lang=en&id=284

Agenda.be
https://agenda.brussels/en/event/248500/game.html

Jegy.hu
https://www.jegy.hu/program/tomas-danielis-the-game-93479

Mloki.sk
http://www.mloki.sk/bez-okolkov/po%C4%8Fme-sa-hra%C5%A5-alerad%C5%A1ej-bez-det%C3%AD#/0

webnoviny.sk
https://www.webnoviny.sk/v-piatok-zacina-hlavny-program-festivalubratislava-v-pohybe/

Bratislava v pohybe:
https://www.facebook.com/pg/bratislavavpohybe/posts/

A4.sk
https://a4.sk/en/spravy/oznamy/choreography-of-theory-of-games-by-sixperformers

Kuultur.com
https://kuultur.com/a4-program-na-mesiac-oktober-2018/

Tanckritika:
ww.tanckritika.hu/kategoriak/jegyzet/1294-peter-marta-jatszman-beluljatszman-tul

Tanz.at
http://www.tanz.at/index.php/kritiken/kritiken-2019/2071-tomasdanielis-game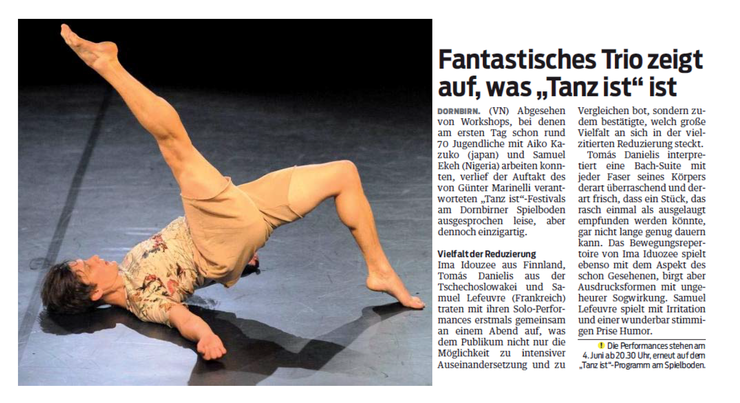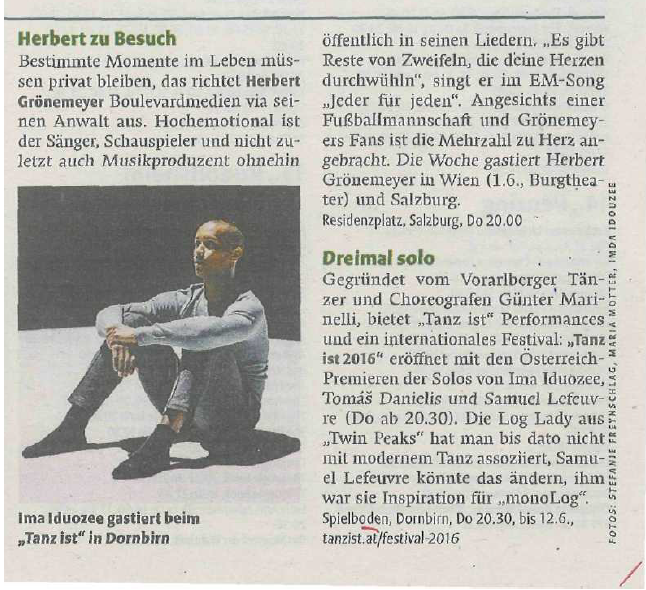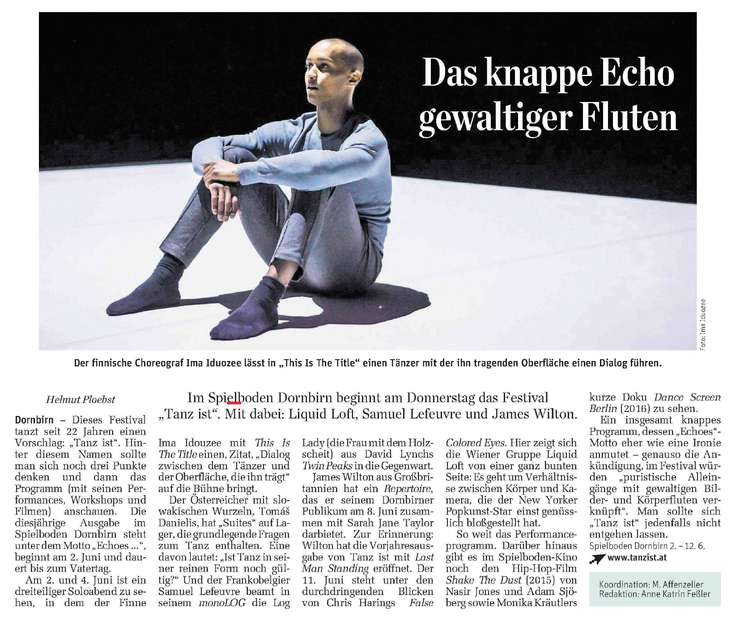 "...Danielis is an intrepid dancer…
...he is a very clever choreographer...
Tomas Danielis does not need music to express himself physically, but strongest, however, is his passionate clinch with Haendels music....
....almost cubist pictures that is reminiscent of a maze, you can not find the way out to. It created a surreal atmosphere....
...Here he finds a unique physical language when he as warped man...
...And we see a man who indulges in tune and who experiences a spiritual redemption through dance.
...In these passages "ON THE RED LAWN" turns into pure magic..."
http://cphculture.dk/p555ontheredlawn.html
ON THE RED LAWN
★★★★★★
Dansehallerne har atter engang fået besøg af den talentfulde Tomas Danielis, der blandt meget andet indtager en væsentlig plads i det prisbelønnede team, der udgør "Granhøj Dans". Nu er han aktuel med soloforestilligen ON THE RED LAWN, som han selv har skabt koreografi til.
Forestillingen, der varer knapt en time, er løst baseret på Dantes Inferno. Man gør dog klogest i at anskue forestillingen som et abstrakt værk, da den rent fortællemæssigt virker noget uklar.
På bagscenen ser vi på levende billeder af Danielis' ansigt, snart splittet snart samlet, men altid med søgende blik, og mod slutningen i farver.
Men ON THE RED LAWN virker især seværdig, fordi Tomas Danielis er en uforfærdet danser, der konstant stiller nye krav til sig selv. Koreografisk arbejder han denne gang med spasmer, som indgår i de fysiske udtryk for en sjælelig tilstand. Det forekrøblede menneske, der samtidig rummer stor skønhed. Snart påklædt spillende en rolle, snart nøgen og hudløs ærlig i sin kamp med de indre dæmoner.
Tomas Danielis behøver ikke musik for at kunne udtrykke sig kropsligt, men stærkest virker dog hans lidenskabelige livtag med Haendels passionsmusik. Her finder han et særegent fysisk sprog, når han som forkvaklet menneske forsøger at dirigere musikken. Og vi ser et menneske, der hengiver sig til tonerne, og som oplever en åndelig forløsning gennem dansen. I disse passager bliver ON THE RED LAWN til ren magi.
http://www.dansonline.dk/index.php/57-dansen-i-helvede
Inspireret af Dante Alighieris inferno i Den Guddommelige Komedie, portrætterer den slovakiske danser og koreograf, Tomáš Danielis, synd og erkendelse i hans solo On the red lawn.
af Sandra Morenilla Nielsen (stud.mag.)
Barokmusikken flyder ud af højtalerne, mens Danielis iført skinnende sølvtights, bar overkrop og klovnekrave danser sig ind på centrum af scenegulvet med rolige, stive bevægelser. Han drejer rundt om sig selv og minder om en blanding af den melankolske drejende ballerina fra et gammelt smykkeskrin og en forfinet hofnar, som gør sit ypperste for at underholde sit publikum.
I helvedes forgård
Da han har fundet sin plads midt på scenen under det blændende spotlight, stopper musikken, lyset slukkes, og han falder hårdt mod gulvet. Eller måske nærmere ned i infernoet. Her ligger han i fosterstilling og vrider sig ud af sit spandex, så den næsten nøgne krops mikrobevægelser træder tydeligt frem. Kroppen vrider sig langs gulvet og virker utilpas og fremmedgjort overfor sig selv – måske som et billede på de fortabte sjæle i infernoets forgård.
Vanviddets indtog
"Lad alt håb fare, hvo træder ind" står der på Helvedes porte til Dantes Inferno. Og håbet ser da også ud til at forlade vores hovedperson, som omsluttet af mørke begynder at udvikle en stereotyp og gentagende adfærd. Han iklæder sig sit tøj, for senere at tage det af igen og gentage proceduren én gang til. Og stopper op i bevægelser, for at vende tilbage til startpunktet, som en ridset plade, der hakker. Sveden drypper af panden, blikket virker sløret, hænderne urolige. Den er god nok – det er ikke særligt sjovt i helvede.
Et strejf af surrealisme
Den simple scenografi består hovedsageligt af den sparsomme belysning, som understreger fornemmelsen af vanvid og klaustrofobi. Det hvide lys mod det sorte gulv danner nærmest kubistiske billeder, som leder tankerne mod en labyrint, man ikke kan finde udvejen til. Der skabes en surrealistisk stemning, som især fremtræder i de sort-hvide videoprojektioner på bagvæggen. Her ser man Danielis stirre koldt på sit dansende jeg på scenegulvet, mens visuelle effekter, forvrider, fordobler og fragmenterer hans ansigt.
Kampen mod jeg'et
Her går det for alvor op for os, hvem vores subjekt kæmper mod i infernoet: sig selv. For i selvransagelsen og erkendelsen af rækkevidden af ens fejl og synder ligger frelsen. Og hermed åbner der sig en sti af lys – en lille stråle af håb – hvorefter et rødt skær lægger sig over scenen, og Danielis igen ifører sig klovnekraven og mimer til Händels melankolske og smukke Lascia Ch'io Pianga:
"Må sorgen, ud af medlidenhed, bryde disse lænker af lidelse, og lade mig sukke efter frihed".
FAKTA
On the Red Lawn
af den slovakiske koreograf og danser Tomas Danielis
Spillede på Bora Bora den 25. og 25. september
Info: Bora Bora
http://www.getvamos.com/events/on-the-red-lawn/8422661
Soloforestillingen "On the Red Lawn" er inspireret af "Inferno" fra "Divine Comedy". Gennem Dantes gang i helvedes korridorer udforsker koreograf og danser Tomas Danielis de mennesker, som Dante møder på sin vej, deres valg, motivationer og (u)tilfredsstillelse.
I soloen stiller Tomas Danielis spørgsmål til livet, vores valg, dansen, samt til de motivationer - såsom kærlighed og følelsen af at være hjemme, der ligger dybt i alle os mennesker.
Er det muligt for mennesket at kende sin vej gennem livet, er det muligt at ændre sine valg eller i det mindste opfatte sine valgt på en anderledes måde?
"On the Red Lawn" forsøger at besvare disse spørgsmål ved at kombinere visuelle udtryk med dans.
Soloen skaber forbindelser mellem det nye og det evigt eksisterende, mellem kroppens synlige udtryk og dens bagvedliggende historie, mellem følelsesmæssig og fysisk intimitet og mellem det klassiske narrative og den åbne struktur.
Credits:
Koreografi og dans: Tomas Danielis
Videoart: Stefan Schmid
Scenografi: Stefan Roehrle
Musik: Jean Baptiste Lully, Georg Friedrich Haendel, Nicola Porpora
Koreografi assistent: Aline Sanchez Rodriguez
Teknik: Thomas Bergner
www.tomasdanielis.com
 Kröne Zeitung, 22. March 2015, Austria (national edition)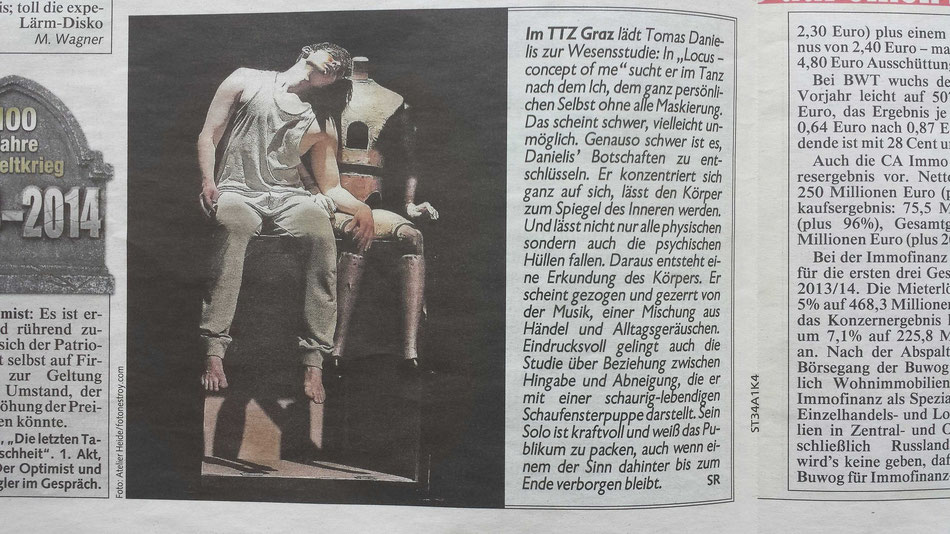 http://www.tanz.at/kritiken/kritiken-2014/979-tomas-danielis-locus.html
AutorIn: Eveline Koberg |
Tomas Danielis zeigte im TTZ, Tanz & Theaterzentrum Graz, seine neue Solo-Produktion "Locus – Concept of Me", eine "tänzerische Erinnerungssuche", unterlegt mit dem Gedanken "you are / not / who you remember you are". Insgesamt vielleicht frei "übersetzbar" als "wo bin ich / wenn ich, da ich / vielerorts war"?
Präsentiert wurde eine Szenenfolge: Chronologische Lebensphasen wahrscheinlich – jedenfalls was Anfang und Ende in seiner Ähnlichkeit betrifft – und exemplarische Bewusstseinsschichten. Dass diese einzelnen Abschnitte scheinbar beiläufig, unverbunden aufeinander folgen, bewirkt unnotwendige Einbrüche im dramaturgischen Fluss und ist nicht nachvollziehbar. Ganz besonders auch deswegen nicht, weil das Engagement, die Ernsthaftigkeit, mit der sich Danielis ansonsten "auf eine tänzerische Reise zu verborgenen Orten der Erinnerung – zu vergessenen Gedanken, versteckten Wünschen" begibt, der nachhaltigste Eindruck ist, den man mintnimmt. Bleibt doch alles weitere an Gedanken und Empfindungen dem Rezipienten eher verborgen; abgesehen von der Frage, warum sich die vermittelte Emotionalität im Kämpferischen, im Aggressiven, im Beziehungslosen erschöpft, sich inhaltlich also relativ eindimensional artikuliert – wiewohl neben "Abscheulichkeit" auch der Ausdruck von "Schönheit" des "Menschseins" angekündigt wird.
Und es stellt sich die Frage, warum bei dem gegebenen Einsatz und dem grundsätzlichen tänzerischen Können Danielis' nicht mehr an bewegungstechnischer Feinarbeit zu erleben ist. So widmet er sich etwa mehrfach der Minimalbewegung von Fingern, ohne damit aber Geführtes, Zielgerichtetes in der Bewegung vermitteln zu können.
Womit er überzeugt, ist Kreativität in bizarren Bewegungsformen, in einzelnen explosiven, weder sich selbst in irgendeiner Weise schonenden Bewegungssequenzen noch den Zuseher in seinem ästhetische Empfinden – ob beim mehrmaligen Einsatz des Kopfes als einer von 5 (!) Gliedmaßen oder durch die Unerbittlichkeit, mit der er in "Endlosschleifen" Kämpfen und Suchen in all den Einschränkungen in Windungen und krampfartigen Schleifbewegungen visualisiert.
Tomas Danielis: "Locus – Concept of Me" am 20. März 2014 im TTZ Graz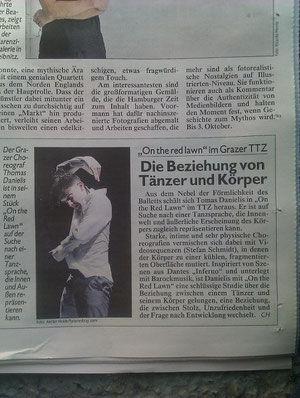 http://www.tanz.at/kritiken/kritiken-2012/612-tomas-danielis-on-the-red-lawn.html
Start
Kritiken Kritiken 2012 Tomas Danielis "On the Red Lawn"
Tomas Danielis "On the Red Lawn"
10. September 2012 | AutorIn: Eveline Koberg |
Wenn das Innen nach dem adäquaten Außen sucht. Tomas Danielis, geboren und ausgebildet in der Slowakei, ist seit gut zehn Jahren als Tänzer-Choreograph sowie als Lehrer europaweit unterwegs und bereits mit mehreren Preisen ausgezeichnet. Vor einiger Zeit hat er Graz zu seinem Lebensmittelpunkt gemacht. Am 6. September eröffnete er hier die Saison im TTZ , im Tanz- und Theaterzentrum.
Nicht mit einem fröhlich beschwingten Tänzchen freilich - was auch kaum von Tomas Danielis zu erwarten wäre, ging er doch immer schon mit viel Ernst und mit noch mehr Zielstrebigkeit in seiner Art unbeirrbar vor. Eben dieses, das nahezu zwingend ihn Bewegende, wird als eines seiner Merkmale auch bei der Premiere des ersten Teils "On the Red Lawn" eines geplanten" Diptychons" deutlich.
Das von ihm choreographierte und getanzte, knapp einstündige Solo ist eine von Emotionalität durchwobene, mehrschichtig intellektuelle Analyse wie künstlerische Synthese. Danielis ist vor allem von der starken Nähe zwischen Bildender Kunst und Tanz überzeugt und daher ist ihm eine entsprechende performativ gemeinsame Umsetzung ein großes Anliegen: Die hier realisierten Video-Sequenzen (Stefan Schmid) mögen umfangreicher und aufwändiger geplant gewesen sein, allein ihr nicht zu häufiger Einsatz, ihre geradlinige, reduzierte Klarheit verleiht ihnen besondere Qualität. Im Gegensatz dazu stehen die häufigen Kostümwechsel, die zwar strukturierend, jedoch in dieser Anhäufung Ursache für Spannungseinbrüche sind.
Anderes gilt für die zumeist scharfen dramaturgischen Schnitte: Schlüssig einerseits in der zum Teil geometrisch aufbereiteten Raumnutzung, unterstützt außerdem durch überzeugende Lichtführung (wenn auch die grundsätzliche Sparsamkeit des eingesetzten Lichts auf Dauer in doppeltem Sinne etwas ermüdet); inhaltlich schlüssig andererseits als Metapher für Zerrissenheit, Suche, Getriebenheit etc. Zusätzlich stimmig und ergänzend dazu die kontrastierenden Bewegungs-Arten (besonders deutlich im rahmengebenden Gegenüber von barocken Tanzschritten und Variationen zeitgenössischen Tanzes): Ein im dichten Nebeneinander eingesetztes formales Stilmittel, das Danielis noch variationsreicher durch- und ausspielen könnte, um seine Fragestellungen wie etwa auch die nach Wahlfreiheit des Menschen nachhaltiger, überraschender und kreativer vor Augen zu führen. Geballte Fäuste allein etwa tun nicht die Wirkung, die den erahnbaren gedachten und empfundenen Tiefen gerecht würden.
http://spectator.sme.sk/articles/view/48517
Nu Dance Festival brings Slovak and foreign novelties
10 Dec 2012
Zuzana VilikovskáCulture & Society
TOMÁŠ Danielis, one of several leading Slovak dancers living abroad, says that unlike in foreign countries, contemporary dance in his home country has little backing among local audiences and institutions alike – which is the reason why so many dancers have left Slovakia to make their careers abroad. However, in spite of this – and despite the initial fears of insiders – the recent Nu Dance Festival managed to attract welcoming and supportive audiences, evoke debates, and fill workshops.
The festival, which took place at the elledanse theatre in Bratislava between November 20 and 28, offered 12 performances over 7 evenings (including 9 premieres) from 6 countries, as well as a workshop "Flying Low and Passing Through" for professionals, a documentary about a dance experiment of the same name, the work-in-progress "Micro in Macro", and after-parties with DJ Effiks.
An emergency substitute
….
Baroque musings
The festival wound up with another male solo to strong music, but of a different type. On November 28, the On the Red Lawn piece was danced by Tomáš Danielis, a Slovak currently working abroad, mostly in Denmark, Austria and Germany. He is also the work's creator and choreographer.
"In this piece, the motif was primary – which developed from Dante Alighieri's Divine Comedy – from the Inferno – inspired by the word as well as by the illustrations. I took Doré's, Boticelli's, Blake's and Dali's illustrations, compared them and took always the most impressive version," Danielis told The Slovak Spectator. "The people are in hell because on the one hand they broke rules and feel guilty, and on the other hand they are proud of something they have done because they loved something: be it money, lechery or blind revenge." Saying that this was his first ever work to classical music, he continued: "I needed music that would express the boasting and vanity on the one hand, and many layers as well as depth on the other. I did not want to use electronic music, and so through the selection process I quickly found Baroque music, with the exception of the last two pieces, which are written by Händel."
The piece, which is almost one hour long, premiered in Austria in September, where it was performed only four times; the Nu Dance Festival saw its Slovak premiere. Danielis also used video sequences (made by Stefan Schmidt) to break up the condensed motion-and-music combination. He also changed his clothes – or took them off completely – to express outwardly the stirrings and incitement or the tortured souls. In some places, the physical visualisation of demons, incubi and succubi was palpable.
"I use video because theatre is based on a question, and once the question is answered, this moment dies and viewers start to be bored. Video, however, offers a window into another perspective and another reality," Danielis said. "Especially when I am alone onstage, the video helps to balance the potential risk of narcissism – and uncover more layers."
Both Viňarský and Danielis said that contemporary dance is a very young genre in Slovakia, having begun only about 20 years ago, and that it is still looking for audiences. Viňarský, who currently works in Žilina's Stanica Záriečie culture hub, praised local audiences, considering local universities the main source of young, intellectual and even artistically inclined people. Danielis was more sceptical, stressing the fact that the lukewarm interest of the Slovak public might also be behind the insufficient support for this "marginal" art. However, perhaps they could agree that a festival like Nu Dance might help spread the word, find new, open visitors and become not only a venue for professional comparison and exchange, but also inspiration for both professionals and audiences.
JADE – opening of regular event "Mondays of Contemporary Dance in Slovak National Theatre"
http://www.youtube.com/watch?v=vfwKNw0uPWU
Veľa piť a vydržať
Eva Gajdošová, divadelná publicistka | 30.11.2012 16:00; www.sme.sk
Slogan, ktorý som si požičala z predstavenia Petry Fornayovej, v mnohom vystihuje situáciu v súčasnom tanci na Slovensku. Odrážala sa aj na 7. ročníku festivalu Nu Dance Fest, platforme pre slovenskú tvorbu. Uviedli sa na ňom tvorcovia, ktorí – napriek všetkým prekážkam - vydržali. Takmer všetci stáli pri zrode súčasného tanca na Slovensku. Novým v tejto zostave je združenie Bees-R, ktoré na úvod uviedlo Skúmanie javov v choreografii a interpretácii Jany Terekovej. Spojenie pohybu, elektronickej hudby, živého vizuálu a svetiel vyústilo do príjemného zážitku.
38 nudance 4x Sólo Zdenka Brungot Svíteková - Chiens naufragés
Sólo Zdenky Brungot Svítekovej - Chiens naufragés - patrí medzi kúsky, ktoré buď pobúria, alebo nadchnú.
Autor: Geir M. Brungot
Festival sól
Najväčšmi boli na festivale zastúpené sóla. Nie je to náhoda, ale odraz reality, chýbajúceho priestoru a prostriedkov na zaangažovanie väčšieho tvorivého tímu. Výber sól bol zaujímavý názorovou vyhranenosťou tvorcov.
...
V záverečnom sóle festivalu sa predstavil Tomáš Danielis, zastupujúci stále sa rozširujúcu skupinu našich tvorcov v zahraničí. Jeho sólový projekt On the Red Lawn, inšpirovaný Infernom z Danteho Božskej komédie bolo najvýpravnejším predstavením festivalu, ukážkou, že tanec je nutné dotvoriť svietením, scénou. Kedysi enfant terrible slovenského tanca tiež dospel do veku, keď sa obzerá späť. Jeho sugestívne sólo je osciláciou medzi túžbou nájsť správny smer a strachom z rozhodnutia.
...
Festival sa konal v priestoroch divadla Elledanse, ktoré je po 25 rokov existencie súčasného tanca stále jedinou scénou pre súčasný tanec v Bratislave.
© AUTORSKÉ PRÁVA VYHRADENÉ
Damnation
Začátek konce, tedy prvním představením posledního dne festivalu, bylo sólo Damnation. Jeho tvůrce a zároveň interpret Tomáš Danielis si rád pohrává s reakcemi diváků a jejich vztahem k dění na scéně. Některé z nich proto učinil jeho součástí. I když úloha publika nebyla natolik rozsáhlá, jak by se u interaktivního představení dalo očekávat.
Inspiraci k sólu našel autor ve filmu Werckmeister Harmonies. S ním se shodovala i první scéna, kdy vybrané diváky nechal kolovat po scéně jako sluneční soustavu. Potom už mohli sólo opět sledovat v rolích diváků. I když vlastně vytvořili divadlo na divadle – byli usazeni na scéně.
Tomáš Danielis ztvárňoval postavu přikrčeného podivína, se zvednutými rameny, nejistého, avšak ne zmateného, který vzbuzoval soucit a o jehož vnitřní kladnosti člověk nepochyboval. Jako smutně komický klaun si vybíral diváky, kteří poslušně (až na jednoho) plnili jeho úkoly a přistupovali na zvláštní hru. Když pak "Quasimodo" přešel z podivných kroků na pološpičkách s předsunutou pánví do tance, rozvinul pohyb do až kontrastních rozsahů se značnými točkami a velkolepými gesty paží i nohou. Jakoby přikrčená postava ztrácela vnějších omezení a vyjadřovala tancem přání naplno sdělovat. Postupně se pak Tomáš Danielis vracel k úvodní postavě, z které stále vyzařovala touha být ostatními pochopena. Ústředním se pak stal výjev, ve kterém se zasypával moukou a vytvářel různorodé obrazy. Nejen tento moment, ale celé dílo bylo protkáno určitou metaforičností.
Tomáš Danielis vytvořil sugestivní sólo, v kterém naprosto přesvědčivě ztvárňoval zvolenou postavu a v tanci při tom udivoval svojí neomezeností. Choreografii doplňoval light designem, který vytvářel potemnělou atmosféru a zároveň se mu světlo jednotlivých reflektorů stávalo v určitých momentech partnerem, s kterým si pohrával. Nemalou zásluhu na působivosti celého výstupu měla i zvolená podmanivá hudba ze zmíněného filmu Werckmeister Harmonies.
Autor: Jana Bitterová
http://www.tanecniaktuality.cz/en/performances-festivals/archives/festivals-2007-2009/styri-1-dni-tanca-2009/den-paty-1710/
TANZTHBATER
photo
Roboterhafte Erkundungen: Tomas
Danielis beim Finale LAPP
Geglückter freier
Tanz im Freien
Famoses Finale des Grazer Tanztheater Festival
GRAZ. Das Open-Air-Experiment ging auf beim 20. Internationalen Tanztheaterfestival zum NulFlarif, wie der gut besuchte Franziskanerplatz bei der renommierten Valerie Larnielle und dem Überraschungsauftritt von Tomas Danielis bewies. Roboterhaft erkundete dieser in ,,Back to myself"erst Korper und Umgebung, um dann akrobatische Meisterleistungen in seine Figuren zu legen. Einmal mehr fesselte die muskeltrainierte Lamielle mit grandioser Ausdrucksgabe bei den Wanderstationen ihrer ,,Escales Vagabondes". Von der Mimik bis zu jedem Schritt inszenierte die in einen weiten Mantel gehüllte, mit Hut und festem Schuhwerk schrág anmutende Künstlerin aus Frankreich einen szenischen Bilderbogen, der mit majestátischer Grandesse vom Leben auf der Strasse erzahlt.
Ews
Kronen Zeitung, July 2011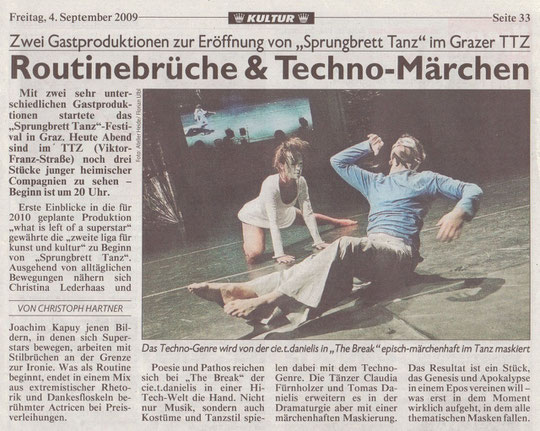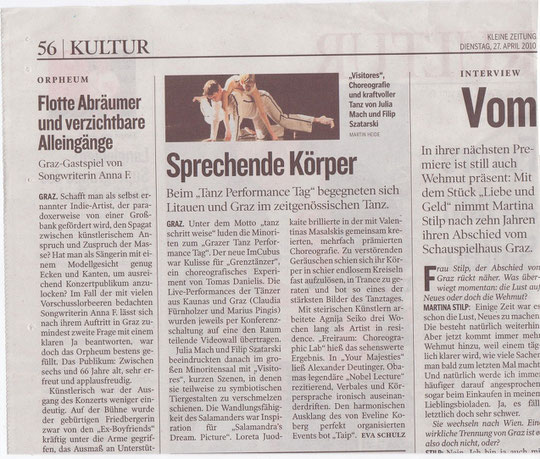 Damnation
Začátek konce, tedy prvním představením posledního dne festivalu, bylo sólo Damnation. Jeho tvůrce a zároveň interpret Tomáš Danielis si rád pohrává s reakcemi diváků a jejich vztahem k dění na scéně. Některé z nich proto učinil jeho součástí. I když úloha publika nebyla natolik rozsáhlá, jak by se u interaktivního představení dalo očekávat.
Inspiraci k sólu našel autor ve filmu Werckmeister Harmonies. S ním se shodovala i první scéna, kdy vybrané diváky nechal kolovat po scéně jako sluneční soustavu. Potom už mohli sólo opět sledovat v rolích diváků. I když vlastně vytvořili divadlo na divadle – byli usazeni na scéně.
Tomáš Danielis ztvárňoval postavu přikrčeného podivína, se zvednutými rameny, nejistého, avšak ne zmateného, který vzbuzoval soucit a o jehož vnitřní kladnosti člověk nepochyboval. Jako smutně komický klaun si vybíral diváky, kteří poslušně (až na jednoho) plnili jeho úkoly a přistupovali na zvláštní hru. Když pak "Quasimodo" přešel z podivných kroků na pološpičkách s předsunutou pánví do tance, rozvinul pohyb do až kontrastních rozsahů se značnými točkami a velkolepými gesty paží i nohou. Jakoby přikrčená postava ztrácela vnějších omezení a vyjadřovala tancem přání naplno sdělovat. Postupně se pak Tomáš Danielis vracel k úvodní postavě, z které stále vyzařovala touha být ostatními pochopena. Ústředním se pak stal výjev, ve kterém se zasypával moukou a vytvářel různorodé obrazy. Nejen tento moment, ale celé dílo bylo protkáno určitou metaforičností.
Tomáš Danielis vytvořil sugestivní sólo, v kterém naprosto přesvědčivě ztvárňoval zvolenou postavu a v tanci při tom udivoval svojí neomezeností. Choreografii doplňoval light designem, který vytvářel potemnělou atmosféru a zároveň se mu světlo jednotlivých reflektorů stávalo v určitých momentech partnerem, s kterým si pohrával. Nemalou zásluhu na působivosti celého výstupu měla i zvolená podmanivá hudba ze zmíněného filmu Werckmeister Harmonies.
Autor: Jana Bitterová       
http://www.tanecniaktuality.cz/en/performances-festivals/archives/festivals-2007-2009/styri-1-dni-tanca-2009/den-paty-1710/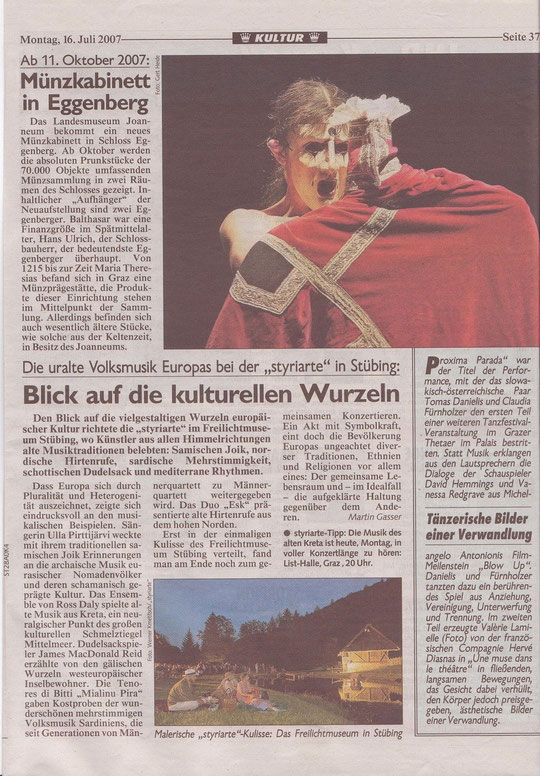 Taneční listy
____________________________
Konfrontace 2001
....
Ve dvou společných večerech v Duncan Centru vystoupili Tomáš Danielis a David Zambrano. T. Danielis, původem ze Slovenska, zahájil svou profesionální taneční dráhu v souboru Zuzany Hájkové v době, kdy byl ještě žákem konzervatoře. Krátce na to začal vytvářet vlastní, většinou sólové projekty. Jeden rok studoval u tanečníka a choreografa D. Zambrana. Od r. 1999 je posluchačem VŠMU – obor pedagogika moderního tance. Na pražském festivalu nového tance představil své improvizované sólové představení Dnes som ťa skoro stretol (2000). Věnoval jej D. Zambranovi. Jak je uvedeno v programu, sólo vzniklo na motivy pohádky šestileté holčičky. Základem jeho inscenační struktury byl obsah a dětská imaginace jistého krátkého příběhu. Vše se ovšem cestou pokusů a improvizace zredukovalo na "fragmenty obrazů transformovaných" do pohybu, v nichž Danielis vypráví své vlastní příběhy. Škoda jen, že nebylo objasněno, o jakou pohádku či o jaké příběhy se jedná. Zřejmě to ale nebylo podstatné.
Danielis se ve svém představení Dnes som ťa skoro stretol uvedl jako pohybově nadaný tanečník. Měla jsem ovšem pocit, že určité sekvence jeho improvizace tvořily pouze "prázdné" pohyby, které nevyrůstaly ani z vnitřního prožitku tanečníka, ani ze snahy o sdělení. Až na náznak vyprávění na počátku jeho taneční improvizace a na některé evokované nálady jsem Danielisovu zpověď, bohužel, nerozluštila.
Tanečník, choreograf a vyhledávaný pedagog D. Zambrano pochází z Venezuely. V současné době žije v Amsterdamu. Vystupoval a vyučoval ve více než třiceti zemích Evropy, Asie a Ameriky. Tančil např. na American Dance Festival, v newyorském Improvisation Dance Festival či venezuelském Festival de Danza Postmoderna, který r. 1989 sám založil. Jako pedagog působil v tanečních skupinách Rosas, Ultima Vez, Sasha Waltz aj. Opakovaně vyučuje na taneční škole P.A.R.T.S. V Bruselu, divadelní škole v Amsterdamu a Arnhemu. Improvizaci Zambrano chápe jako uměleckou formu a choreografii jako prostředek k jejímu zdokonalení.
Ve společném večeru s T. Danielisem Zambrano tančil ve svém novém sólu ACME. Sám říká, že: "ACME je název pro vesmírnou továrnu, která vyrábí vše, co člověk právě potřebuje." Pro toto dílko zřejmě záměrně použil "na efekt hrající" hudbu, jejímuž psychedelickému tlaku se nepodrobil, ale využil ho. Tento tajemný podivín těžil s profesionálním nadhledem z pulsující atmosféry humor, vytvářel skrze jednoduché pohybové prostředky iluzi různých situací a hrál si s opakováním pohybových motivů za účelem vytvoření nových účinků.
...
Daniela Klívarová